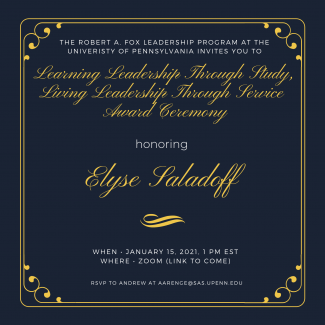 The Learning Leadership through Study, Living Leadership through Service Award is bestowed each year by the benefactors, faculty, staff, student-leaders, and alumni of the Robert A. Fox Leadership Program on a colleague in the School of Arts and Sciences who does not work for the Fox Program, but who has worked consistently and creatively in the best interests of the Fox Program, and has exemplified the Fox Program's learning methods and civic mission.
This year we are honoring Elyse Saladoff, the Director of Fiscal Operations for the College.
Due to the ongoing pandemic, this year's celebration will be held virtually. Please RSVP to Andrew (aarenge@sas.upenn.edu) to receive the Zoom link.