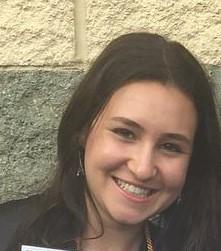 Becca Avigad C'21, an International Relations major from Pittsburgh Pennsylvania, had the unique opportunity to work alongside EJ Dionne and Bill Galston, both Seniors Fellows at the Brookings Institution, this past summer through her fellowship with the Robert A. Fox Leadership. While her fellowship had to be completed remotely, due to the COVID-19 pandemic, Avigad was able to get first-hand experience working for a leading think tank and absolutely loved it. She shares more about her fellowship below.
What did the day-to-day look like at your fellowship with the Brookings Institution?
I was working primarily with Bill Galston, but at times I would also be working with EJ Dionne, and he would give me these long-term research projects to work on related to several issues that I would do around my own schedule. It was pretty loosely structured with being virtual and then at times there would be meetings within the government studies department or meetings I would have with their research assistant. There would also be different intern-wide events - different lunch-and-learns, different workshops, and other ways to get to know each other.
What type of research projects did you work on?
There were a handful of big ones. They had been working on a report about universal basic voting - like universal civic duty and voting – and there was a lot of editing that Carolynn, the other Fox Fellow, and I did. We read through it before it was officially published. It was a joint publication with a center at Harvard. And then I did a lot of work on looking at long-term potential political implications of COVID-19 and the way COVID-19 has changed things so that even after COVID ends things might still be permanently altered in our political system.
I did a lot of research about trends and anti-Semitism over the past couple of decades. I did some work about changes in the democratic electorate in the past 30 years. And EJ would have us help proofread and fact check his weekly articles.
What did you learn through the fellowship?
I definitely learned a lot about the experience of researching with a think tank and working with scholars. I think a big thing that I didn't realize I would learn was the collaborative nature of it all.  Often the scholars would work with one another throughout the think tank but I was surprised by how much they would reach out to people outside of the organization or partner with universities or other think tanks. It was very cool to get to sit in on some of those meetings and just sort of get to hear this flow of ideas going back and forth and see how that process worked. The big thing that I took away was that collaborative nature; that was really nice to see.
Similarly, what surprised you about the fellowship or the opportunity of working with EJ Dionne and Bill Galston?
That's a good question. I don't know if there was anything that surprised me necessarily. I guess they're very big names in the world of research, but they're both very nice people and so I was surprised how much they wanted to work with the fellows and make it a good experience for them and how open they were. At the beginning, I was very intimidated to reach out to them about stuff because I they have this long history of work that they've done but they were both really, really great.
How does this fellowship connect to what you hope to do in the future after your time at Penn?
It was actually really helpful because I had been thinking for a while that I wanted to do some kind of think tank research or some kind of policy research and I wasn't entirely sure that was the direction I wanted to go in. But I really enjoyed the experience that I had. It solidified that direction for me. I don't know for sure whether I want to work after college, from a think tank side or from a governmental side. But I know that this is the kind of work I want to do. I want to go into public policy creation or research. I really, really enjoyed the work that I got to do.
What advice would you have for students that are looking to participate in this fellowship in the future?
I think constant communication is a big one, especially if it's still going to be virtual. I think at the beginning it was a little bit of a disconnect with what I needed to do and what Bill wanted me to do. At times, I felt like I didn't have enough going on. But I talked to him and I talked to the intern coordinator in the governing studies department who was really helpful. If you have any questions and you're hesitant to talk to your scholars about it, reach out to them because they were super, super helpful.
This interview has been edited for length and clarity.