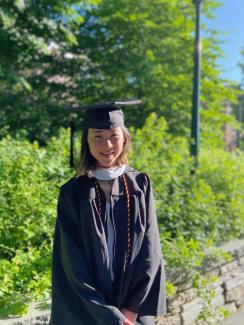 Carolynne Liu is from Hong Kong and graduated in May of 2020 with a degree in Philosophy, Politics and Economics. During the summer following her graduation from Penn, she participated in the Fox Leadership's summer fellowship program working alongside E.J. Dionne, a senior fellow at the Brookings Institution. While the Fox fellowships are generally geared toward current students, select fellowship opportunities are available to recent alumni. Learn how her experience at Brookings has given her some insight into how she wants her career to evolve in the future.
This past summer you completed a fellowship with Brookings Institution. Brookings is quite a large organization, where within Brookings did you work and what type of work did you do?
I worked with E.J. Dionne. He's in the Governance Studies department at Brookings, and I was his Research Assistant's Research Assistant (RA) in a sense. E.J. had an RA and then I was the RA's fellow. I got to help E.J. fact check and edit his biweekly Washington Post columns about national politics. It was a really cool learning experience to get to research all the things that he was looking into. I also helped transcribe a bunch of interviews, write memos, and fact check Brookings publications. There are two that I specifically worked on: the first was Lift Every Voice: the Urgency of Civic Duty Voting and then the other one was with Melissa Rogers and it was related to the role of religion in government. I think that was also recently published. It was a list of recommendations for the incoming government on how the executive branch should approach issues related to religion and civil society.
What do you feel like you learned through the fellowship?
I learned so much. I learned how to fact-check - which I kind of knew how to do before from PORES and a bunch of other research stuff I did at Penn - but I think at Brookings I really learned how to fact check under time pressure. How to follow a methodological way of looking into whether sources are reliable and whether something is publishable. I think another technical skill that I gained was writing concise and comprehensive memos. I'd also worked projects like this before, but it was just really helpful receiving feedback from my RA Megan about how I could improve and how I could get things done in a shorter time period.
What surprised you about the about the fellowship?
I think what surprised me was how personalized it was. I was expecting to be one of many RAs working with E.J. He's just amazing at what he does but I got to meet with him personally and he really took an interest in me. He offered to keep in contact and write me recommendation letters. It was just very relaxed and just nice. People at Brookings were also really interested in learning more about me and hosting events for all of the RAs to get to know one another. Even though it was in an online setting and it's kind of a large think tank, it had a very personal feel.
How does the fellowship, if at all, connect to your future plans for yourself?
I participated in this fellowship right after graduation and I'm currently taking a gap year and trying to figure out what I want to do. One of the things that I'm potentially interested in is working at a think tank in D.C. This fellowship was kind of a way for me to try that out and see if I liked it and I really did enjoy it. I also learned a lot about graduate school from the people who were working there. The other RAs and other fellows really helped me understand how to get to where I want to be in my career and the people that I can tap into if I need help or anything like that. It was just a good experience in general to have.
What advice would you have for people that participate in this fellowship in the future?
That's a good question. I would say just go into it with an open mind and really be willing to learn. I also think that, at least for my fellowship, the work was really what I made of it because a lot of times I went out of my way to ask for more work or for feedback on projects that I did because I really wanted it to be a two month long intensive learning experience. I could have slacked off and not asked for extra work when I knew that I could finish something earlier than expected. But I would just say that for future fellows you should just put your heart into it and try to learn as much as you can.
This interview has been edited for length and clarity.