A message from President Amy Gutmann and Board of Trustees Chair David Cohen:
It is with great sadness that we inform you of the death of our beloved friend and Emeritus Trustee Robert A. Fox, C'52.
As a loyal alumnus, keen businessman, and loving family man, Bob was an inspiration to us all. He shared his wisdom freely, and truly enjoyed the exchange of ideas, learning as much as he taught. His 1999 Alumni Award of Merit citation described Bob as "a leader past, present, and always" and he led with the utmost compassion and integrity. We will miss him deeply and offer our sincere condolences to his family and friends, especially his wife, Penny, ED'53, and their children, Debra, Nancy, Amy, and Kenneth.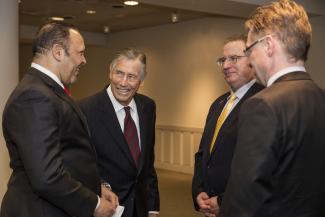 First appointed to the Board of Trustees in 1985, Bob served at various points as Vice Chair of the Board, Chair of the Budget and Finance Committee, and a member of the Executive, Nominating, Facilities and Campus Planning, and Audit and Compliance committees. He was a longtime member of the Athletics Board of Advisors and was a former member of the Penn Medicine Board, the Governing Board of the Economics Research Institute, and the Agenda for Excellence Council.
Bob's generous nature was evident not only in the time and expertise he dedicated to Penn, but also in his extraordinary financial support for the University. In the School of Arts and Sciences, Bob and Penny endowed three professorships, created the Robert A. Fox Graduate Prize Fellowship for students in the humanities and social sciences, and established the Robert A. Fox Endowed Scholarship for undergraduates. To support students with high financial need from the Philadelphia metropolitan area, they established four scholarships in the College which are known as Frederic Fox scholars, honoring Bob's father. 
Reflecting Bob's deep commitment to education as a prime force for good in the world, Bob and Penny established and then permanently endowed the Fox Leadership Program, a distinguished program which will continue to inspire and equip our undergraduates to assume leadership roles in their future endeavors. They expanded the program to create Fox Leadership International, adding a global dimension to all the program's initiatives, and the Fox Leadership Fellowships to fund student opportunities for summer work in non-profit and public service and in research. In 2015, Fox-Fels Hall and the Robert and Penny Fox Family Pavilion were formally dedicated in their names.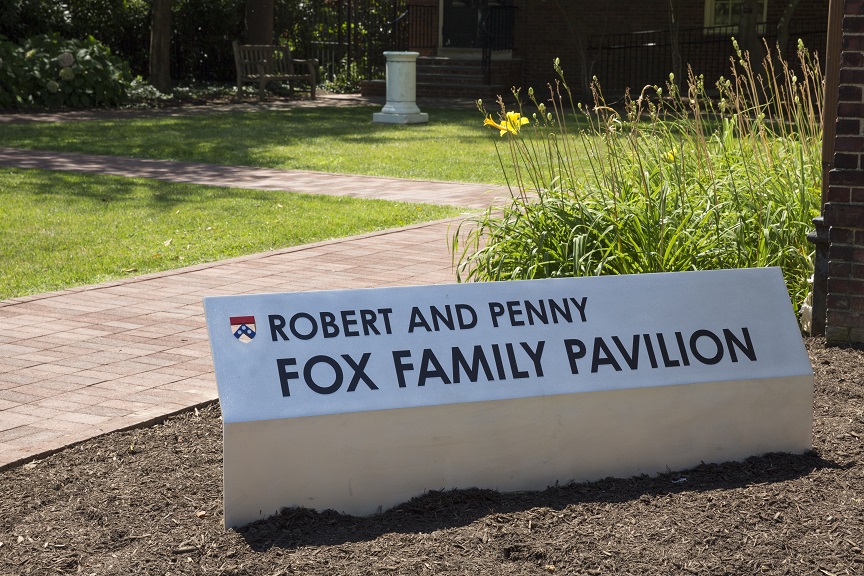 Bob was one of Penn's "Mungermen," a name adopted by those who played under famed football coach George Munger Ed'33 when 70,000 to 80,000 fans regularly packed Franklin Field. Decades later, as a member of the Football Sports Board, Bob led the campaign to endow football's head coach position in honor of George Munger. He was a longtime advisor and generous supporter of intercollegiate and recreational sports. The Robert A. Fox Fitness Center at Franklin Field for all students bears Bob's name.
Bob and Penny's commitment to Penn's educational mission truly spans the University with a lifetime of philanthropy touching nearly every school and center, with significant support for Penn Medicine and the Weitzman School of Design.
Bob was the Chair and Chief Executive Officer of R.A.F. Industries, a private investment company he launched in 1979 to acquire and help grow numerous companies in a diverse range of fields. He was formerly President of Fox Construction Company, President and Chair of Warner Company, and Chair of Waste Resources Corporation, which he developed into a national, publicly-traded firm. A 2007 recipient of Temple University's Musser Award for Excellence in Leadership, he shared his management expertise as a director of a host of corporations, among them Safeguard Scientific, Prime Bank, Keystone Foods Corporation, Graham Packaging, Midlantic Corporation, Continental Bank and Trust Company, Broad Street Trust Company, Industrial Valley Title Company, Commonwealth Realty Trust, and Western Savings Bank, Philadelphia.
A Philadelphia native, Bob gave back to our community as a board member of the Philadelphia 1976 Bicentennial Corporation, the Greater Philadelphia Chamber of Commerce, the Philadelphia Presidents Organization, the Foreign Policy Research Institute, the Gesu School, the American Jewish Committee, and the Jewish Federation of Greater Philadelphia. He and Penny also established the Robert and Penny Fox Historic Costume Collection at Drexel's Westphal College of Media Arts & Design. Bob and Penny were also significant philanthropists to the Moore College of Art and Design, the Philadelphia Museum of Art, and the Pennsylvania Ballet. Their impact on the City of Philadelphia, through its arts and culture, education, and medicine is profound.
Bob was remarkably dedicated to The Wistar Institute, where he had served on the board since 1974 and made the largest gift in the institute's history. Fittingly, he was the inaugural recipient of the Wistar Award, a highly selective honor that recognized his qualities of compassion, integrity, generosity, commitment, and vision. The Robert and Penny Fox Tower at The Wistar Institute, which opened in 2014, was named to honor their leadership of the Building Wistar, Changing the World capital campaign which supported Wistar's first major building expansion in 35 years and ensured the Institute's future at the forefront of cancer research and vaccine development.
Bob was devoted to Penny and his family, while making an indelible mark as a business leader and philanthropist. He was forever loyal to the Red and Blue. Penn could not ask for a more able leader or a more dedicated friend and mentor. We know the entire Penn community joins us in offering our deepest condolences to the Fox family.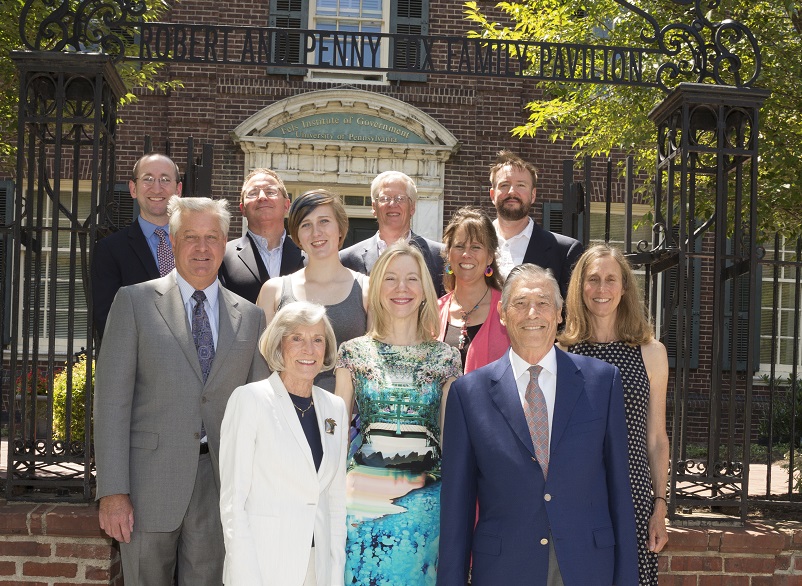 The Legacy of Fox Leadership
To commemorate the legacy of Robert A. Fox, the Fox Leadership Program at the University of Pennsylvania put together a book outlining the incredible influence and impact the Program has had in its two decades of existence. Thousands of students have taken advantage of experiential learning opportunities, trainings, and fellowships over the years. None of this great work would have been possible without the vision and generosity of Bob Fox, his wife Penny, and the entire Fox Family. Click on the image below to see the full digital book.