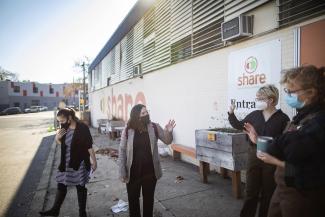 This piece was originally published in Penn Today.
Food insecurity has risen around the nation in the wake of COVID-19, and in Philadelphia—where roughly one in five residents lacked access to affordable, nutritious food even before the pandemic—the need for assistance has also grown.
Students from the Fox Leadership Program have lent their time and expertise to hunger organizations for more than a decade, and during the pandemic Fox fellows have boosted their involvement to meet the expanding needs throughout Philadelphia. Founded in 1999 through the generosity of Robert A. Fox and Penny Fox, the Robert A. Fox Leadership Program is one of the most successful student-serving programs in the country. 
"Hunger is a big issue in our community, and we see it as our responsibility to support some of the local nonprofit organizations that are working day and night to provide food to the most vulnerable among us," says John Lapinski, the Robert A. Fox Leadership Professor of Political Science, faculty director of the Fox Leadership Program, and director of the Penn Program on Opinion Research and Election Studies (PORES). "Exposing Penn students to the challenges and rewards of working in the not-for-profit and public sectors is central to the overarching mission of the Fox Program. The COVID-19 pandemic provided the opportunity to deepen our resolve and dedication to this critical area of need."
This fall semester, students worked with three organizations around the city: the Greater Philadelphia Coalition Against Hunger, Nutritional Development Services, and Share Food Program. All of the students were paid through the fellowship with the Fox Leadership Program but worked directly with the hunger organizations.
Laura Guerrero Peña, a senior from Queens, New York, studying philosophy, politics, and economics in the College of Arts and Sciences, worked at Share Food Program during the fall semester. It's the largest-serving food bank in the Philadelphia region, and the largest independent food bank in the country. They handle logistics to get food to local pantries and other sites, like schools and senior centers, throughout the area. 
Guerrero Peña, who is also a first-year master's student in the School of Social Policy & Practice, heard about the Fox Fellowship Program through her work as a PORES fellow last year and became interested in food insecurity work after moving off campus to a West Philadelphia neighborhood where she became aware of food deserts and the local need in her neighborhood.
"It was a wake-up call for me and influenced my decision to work with food insecurity, especially being from a low-income family myself," she says. 
Some of her roles at the program include using her data analysis and coding skills gained at PORES to update the map of food pantries for the website for Philadelphia County and to ensure each pantry received the proper amount of food. She was also on call for a host of other jobs, from social media help to creating flyers.
"Using the skills that I've learned in school and seeing the extent to which I can create change in the real world has been really insightful," says Guerrero Peña. "I'm learning how invisible nonprofit work can be but at the same time how impactful."
The work has reinforced her passion for social and community work, she says. 
"It's instilled in me the fact that I do want to help people from disadvantaged backgrounds, especially in places like West Philly, where poverty is very much associated with race and socioeconomic status."
"Our Penn fellows have helped us diversify some of the ways we work to feed our neighbors in need. Building upon the efforts of a previous fellow, Laura brought her data and programming skills to assist us with analyzing food poundage and service numbers for the pantries we serve. This type of examination is crucial, especially if we want to ensure equitable distribution of resources across our network," said Madeleine Weko, Philadelphia pantry program manager at Share Food Program. "With the rates of hunger our city struggles with, any additional expertise and innovative teamwork is appreciated and only helps us help others more." 
Dangela Fonseca, a sophomore in the College studying psychology and nutrition, put her interest in nutrition and her Spanish skills to work at her fellowship at the Greater Philadelphia Coalition Against Hunger, which started in the summer and continued through the fall semester.
The Coalition fights food insecurity utilizing a holistic approach, supporting food pantries and soup kitchens by connecting them with additional resources; helping people navigate the SNAP application process; and performing education and policy work, including advocacy in Harrisburg and Washington, D.C.
Fonseca's roles at the Coalition have included translating materials into Spanish and narrating informational videos in Spanish. She also reaches out to Spanish-speaking people who inquire about services. During the summer she was in charge of the Summer Meals Map and worked with a data analyst from the city to map online all the food distribution sites around the region.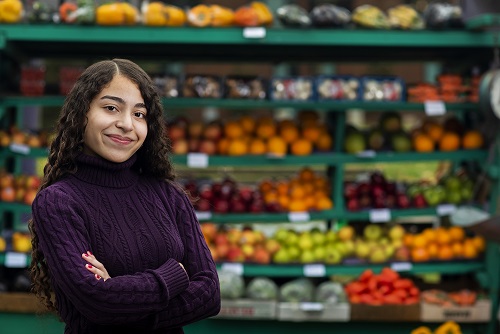 "The work is a mix of delayed gratification and instant gratification," Fonseca says. "It does feel like an uphill battle at times, but there's a lot of rewards to be seen. Helping someone in the moment is immediately gratifying, but it's also a great feeling to see work I did a few months ago make its way into the community to help people on a wider scale.
"I love being part of a team that genuinely cares about its mission with colleagues who are truly excited by the work they are doing," she says. Fonseca says she hopes to continue the work with the coalition after her fellowship is over, adding that it has transformed how she envisions using her majors in a future career.
"It's opened my eyes to what nutrition can mean, not just in terms of a medical sense but also what it means in the community sense," she says.
Katie Milholin is the community educator at the Coalition Against Hunger and a 2018 Penn graduate who initially got involved in the group through an academically based community service class.
"I feel very grateful for the way that I was connected to the organization through Penn," she says. 
Milholin says the coalition's small staff has come to rely on hardworking Penn students to meet their goals.
"Penn students are very self-sufficient; they understand projects and tend to just take them and run with them," she says. "There's something special about Penn students—each brings something unique to the table that we're able to use and benefit from."
As the holidays approach, it's a time of year when many people think about food insecurity and offer help.
"It's a good time to remind people that families in Philadelphia are hungry year-round, not just at Thanksgiving and Christmas," she says. "People really want to do something at this time of year, which is great, and we always want people to get involved. What's really important to us as an organization is having people like the Fox fellows, who give us the assistance we need all year long."
Interested is working with some of the food insecurity organizations spotlighted here? Fellowship opportunities are available with multiple hunger organizations like the Share Food Program, the Greater Philadelphia Coalition Against Hunger and the Nutritional Development Services.